PCCUA Police Department established on Helena Campus
Posted Date: 10/13/23
PCCUA Police Department established on Helena Campus
With active shooter situations on college campuses and in our communities on the rise across the country, more and more public colleges and universities are joining the trend of establishing police departments on their campuses to enhance campus safety.
Today, PCCUA officially established its own police department on its Helena Campus and is now using full-fledged police officers to provide law enforcement services on campus. In doing so, these sworn police officers have full arrest powers granted by the state of Arkansas.
PCCUA Vice Chancellor for College Advancement Rhonda St. Columbia stated, "Our mission is to provide an environment of safety and security, which ensures a peaceful campus experience. Establishing our own police department helps us provide a safer campus experience for our students, employees, and visitors with continual police presence and immediate police protection, if needed."
PCCUA Police Chief Roosevelt Eaton and Officer Sammie Henry, who both have former experience as Helena-West Helena Police officers, are now full-time police officers serving the Helena Campus. You may call the PCCUA Campus Police emergency line by dialing 9999 from any on-campus phone. If calling from your cell or home phone, call 870-816-0377.
You may report crime or suspicious activity by calling those numbers or stopping by the Police Department, located in the Bonner Student Center. Our professional and courteous staff is ready to assist you during normal operating hours or during any campus event.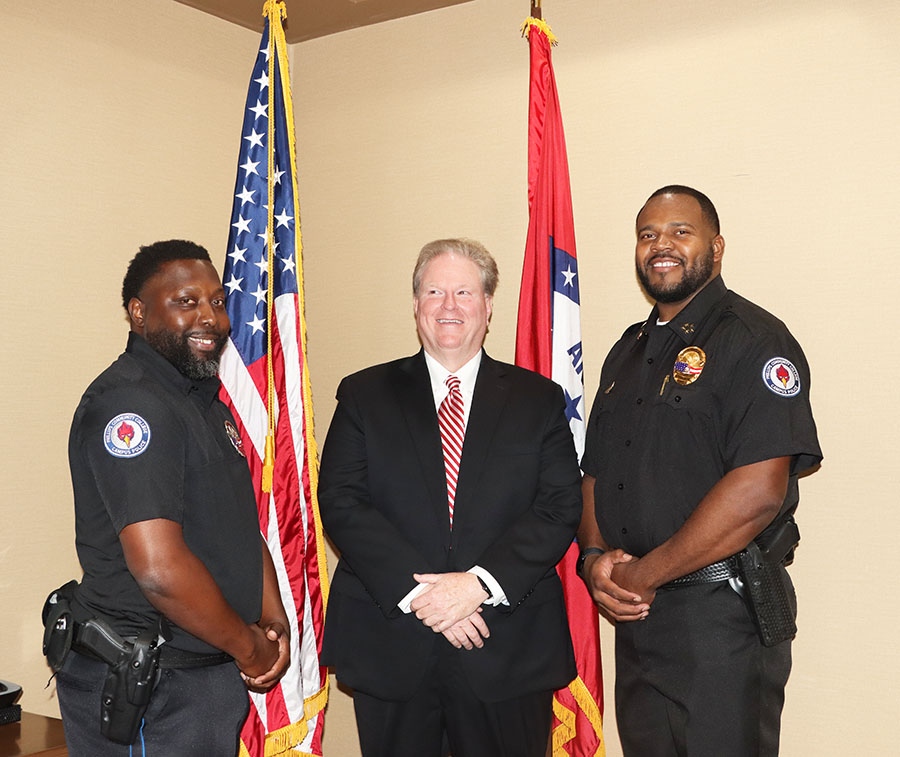 (L-R) PCCUA Police Officer Sammie Henry, PCCUA Chancellor Dr. Keith Pinchback, PCCUA Police Chief Roosevelt Eaton